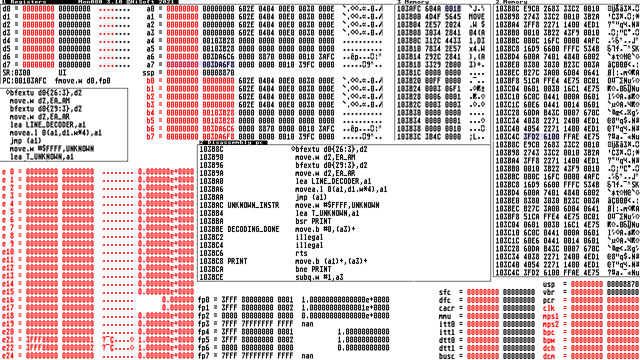 EXTERNAL LINK 68080_debug_layout_1280x720.png 1280*720 39kb

I was wondering how a V4 debug screen could look like.

The 68080 is a big one.
The red colors is V , black is what other 680x0 can have.

B is the extended 8..15 address registers so i would keep them close to A.
D and E are data. but E can also be float, so E close to FP registers and also D.
I like memory to be long repeated, but quad repeated is also handy with the new posibilities.
Central could be a disassembled view.

To view all of this a big screen would be good, i am thinking of 1280x720.
2 or 3 bitplanes would be enoughto keep memorie consumption low.

A view where the address pointers point to direct behind it is handy.
Other memorie should be closeby.

The data presented in ascii right behind data registers. But i would also like a bit view.
A bitview could be done by placing 1pixel-standing-lines close together.
Maybe even in a very light red/green/blue tint to show 16bit color seperation.
This light red/green/blue tint could also be applyed to 24bit color for normal (ascii-hex) view.
Float viewable as exponent 7.742-E4 but friendly 1743.632 would be nice if it fits the range.

After each step it would be nice to see a slight highlight to see what is changed vs the previous step.
On this picture it is a light blue background as example.

I have no knowledge about the amiga hardware yet, but what i first can try is make a very simple one instruction disassember.

I am thinking that other people more familiar could use it.
To make human-sensible text of a memorie lokation with 68080 instructions.
So they could try something out.

plan is:
-it only needs 1 input value, a memorie lokation

let's call it DIS_THIS. (disasemble this instruction)
call it like this:
lea code,a0 ; memorie lokation to look at
bsr DIS_THIS ; where A0 points to
your_printing_routine ; this is your code that prints the first instruction
bsr DIS_THIS
your_printing_routine ; this is the next instruction you print

your printing routine looks inside the called routine.

lea DIS_THIS,(a0) ;

The null terminated string is at 4(a0)
And a word value of the lenght is right before it.

example1:
lea 4(a0),a1
lp:
move.b (a1)+,(a4)+ ;copy null terminated string
bne.s lp

example2:
lea 4(a0),a1
move.w -2(a1),d0 ;number of characters
subq.w #1,d0
lp:
move (a1)+,(a4)+ ;string copy
dbra lp

In the picture you can find '3 Memorie'.
That has a working example of a result.